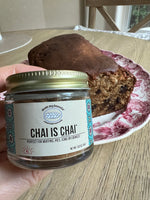 This moist and hearty banana bread has brain healthy substitutions with whole grain spelt flour (not white AP flour), maple syrup (not cane sugar) and olive oil (not butter). And it is SO EASY to make.  The hard part is not diving into it right out of the oven! I use my own healthful spice blends but you can use your version- a chai or cinnamon mixture works well here.
Line your loaf pan with parchment paper and preheat your oven to 350°F. 
Combine wet ingredients:
1 ¼  cups ripe bananas (3 medium bananas worth)
2 organic free range eggs 
5T maple syrup
 cup plain Skyr
1 tsp vanilla
Combine dry ingredients:
1 3/4 cup Spelt flour
1 tsp baking soda
1 tsp Chai spice blend
¼ tsp kosher salt
Mix wet and dry together gently. 
Mix in in ⅓ cup olive oil gently.
Add ¾ cup dark chocolate chips or chopped walnuts
Bake for about 50-55 minutes.  Check your oven and use a tester for proper bake time. 
Hope yours is even better than mine! Cheers to you!