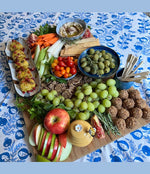 1 Cup dried apple rings (dehydrated, not crunchy)
½ Cup pitted dates, soaked in water for 15-20 minutes
¼ Cup almonds
¼ Cup old-fashioned oats
1 Tablespoon honey
1.5 teaspoon CINNAMON SHTIK®
½ teaspoon vanilla
Drain the dates. But reserve the date water.
Put all of the ingredients in a food processor. The ingredients should come together to form a dough.  If it is dry and is not coming together easily- add back some of the reserved date water just a teaspoon at a time.  Process again and see if you need to add more date water. 
Remove the processed mixture and form into 12 balls.  I use a small ice cream scoop for this so that they are all the same size. Pack the scoop or spoon in equal portions. 
Place the balls on a parchment paper lined quarter sheet pan.
Put them in the refrigerator for 45 minutes to firm up. 
You can store them separated by parchment paper in a sealed container in the fridge for up to 4 days. This way they won't get stuck together.
Bete'avon! I hope your treats are better than mine! Let me know how it goes and subscribe for more healthy board ideas!