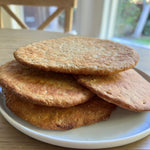 Here is a recipe for barley flour and whole wheat pita bread:
Ingredients:
1 cup barley flour

1 cup whole wheat flour (or 3/4 c whole wheat and ¼ c whole wheat pastry flour)

1 teaspoon active dry yeast

1 teaspoon salt

1/2 teaspoon honey (or sugar if you don't have honey)

1 cup warm water (about 105°F)
Instructions:
In a large mixing bowl, combine the dry ingredients- barley flour, whole wheat flour, yeast and salt. 

Next, dissolve the honey in a cup of warm water and mix it around. 

Slowly add the liquid ingredients to the dry ingredients and mix until the dough comes together.

Knead the dough on a floured surface for about 8-10 minutes. The dough should still be a bit sticky. 

Place the dough in a greased bowl, cover it with a towel, and let it rise in a warm place for about 1 hour or until it has doubled in size.

Preheat your oven to 425°F.

Divide the dough into 8 equal pieces and shape each piece into a ball.

Roll out each ball into a circle, about 1/4 inch thick. It doesn't have to look perfect. Organic shapes are just fine. Be careful not to overwork the dough.

Place the pita bread on a baking sheet,  cover it and let it rest for 10 minutes.

Bake the pita bread for 8-10 minutes or until they puff up and start to get brown spots. You can also bake these 1 at a time in a cast iron skillet on your stove top or a baking steel in your oven. 

Remove the pita bread from the oven and let them cool down just a bit on a wire rack for a bit so they don't get soggy. 

While still a big warm, wrap them up in a clean dishcloth so they don't go stale. It is best to eat these on the day you bake them.  
The barley flour gives these pitas a unique nutty flavor and a slightly denser texture than traditional pita bread that is made with refined white flour. 
AND TO MAKE YOUR PITA NEXT LEVEL, you can brush them with olive oil then sprinkle with ZA'ATAR MY WORLD® before serving.
Bete'avon! I hope your pita are even better than mine! Subscribe for our insider brain healthy baking tips.