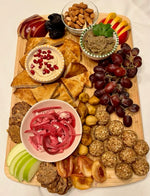 The Jewish holiday of Tu B'Shevat is the festival during which we celebrate the renewal of nature and the coming of spring.Tu b'Shevat is a day to remind ourselves that it is our duty to care for the environment. Children often think of it as the birthday of the trees! Many people mark the day by planting trees or donating money to plant trees in Israel. It is customary to plant tree varieties that are indigenous to the region such as native oaks, cedar, cypress, almond and pear. 
When our kids were little and we visited Israel for the first time, we supported reforestation efforts by physically picking up shovels and planting seedlings in the Carmel Forest. This family activity was arranged through a program with the Jewish National Fund. We also volunteered at Leket Israel, the National Food Bank of Israel. We picked apples and organized the fruit into crates in support of their efforts to rescue surplus agricultural produce and distribute it to those in need. 
Another traditional way to celebrate Tu B'Shevat is by eating the "Seven Species" – a group of seven foods that are mentioned in the Torah as being particularly abundant in the land of Israel:
Wheat: symbolizing the importance of bread as a staple food in Jewish culture.

Barley: symbolizing the importance of agriculture and the cycle of the seasons.

Grapes: symbolizing the importance of wine in Jewish rituals and celebrations.

Figs: symbolizing the abundance of the land of Israel.

Pomegranates: symbolizing the beauty and complexity of the Torah, with its many laws and interpretations.

Olives: symbolizing the abundance of oil in the land of Israel, which was used for cooking, lighting, and anointing.

Dates: symbolizing the sweetness of the land of Israel and the rewards of hard work.
I created this board that represents those Seven Species. I hope you'll recreate it in your kitchen so you can also celebrate the birthday of the trees in the most delicious way. Happy Tu b'Shevat!
I've posted each of the recipes on this site.  
Olive tapenade
Whole wheat and barley pita with ZA'ATAR MY WORLD®
Pomegranate pickled vegetables with A SHTIKL PICKLE®
No bake date treats with CINNAMON SHTIK®