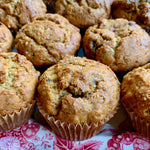 Bubbe knows how to maximize flavor! Bubbe's Bakery® spice blend adds some surprise zing to this recipe that can also be baked as a loaf. I used King Arthur Measure for Measure Flour but you can substitute all purpose flour too. Makes 12 muffins.
Equipment:
12 muffin baking tray
Paper liners
Pre-heat oven to 350 degrees F.
Ingredients:
WET
Mix bananas and sugar first.
3 seriously overripe bananas (mashed)
¾ cup brown sugar
Then mix in other wet ingredients.
2 eggs
2 Tablespoons cultured buttermilk
1 stick butter, melted
1 teaspoon vanilla
DRY
Next, combine the dry ingredients in a bowl with a quick whisk then fold them into wet ingredients. 
1 and ¾ Cups Gluten Free flour
1 Tablespoon Bubbe's Bakery® or your own combo of baking spices
1 teaspoon baking soda
½ teaspoon kosher salt
Lastly, fold in the chocolate chips and walnuts (optional).
½ Cup chips
½ Cup chopped nuts
Sprinkle a bit of raw cane Turbinado sugar on top for extra crrr-unch. 
Spoon a healthy dollop of batter into the muffin cups.  FILL the cups up- they will poof a bit above the level of the paper but they will not overflow because they are #gf. 
Bake 20-25 minutes. Muffins should be nicely browned on top and a tester should be mostly clean. Cool before eating. Yea, I think you are pretty cool too. 
Bete'avon. Hope your muffins are even better than Bubbe's!