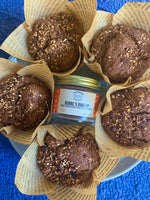 Pour "a nice glass milk", Bubbele. I've got a story for you.
When I was 6 years old, my parents went on vacation without me for 2 whole weeks.  The nerve! My bubbe, grandmother, was charged with taking care of my brothers and me. She moved into our house and immediately instituted her rules which included a daily routine, adhering to a strict schedule. Time for school? The light switch to the bright overhead light  in my bedroom flipped on at O-Dark-100 on the dot. (7am! Seriously? For an 8:30am school start at the elementary school at the corner?) I honestly couldn't wait until my parents returned all nicely tanned from their winter trip to Hawaii. 
My bubbe had many wonderful routines as well, including playing cards with us endlessly, teaching me how to tell time with a homemade pretend clock, eating fancy chocolates from a candy store gift box, baking pies and cakes and telling the best stories about "the good old days" when she was a young girl. 
Something about these chocolatey espresso muffins reminds me of that time- sweet but with a wake up call. Let me tell you, they are a delicious reason to get out of bed in the morning. No light switch required. 
My husband says they taste like a chocolate lava cake fresh out of the oven. Moist and oh, so chocolatey. Have I repeated the word chocolatey enough and seduced you into trying the recipe? Here is another reason to try, they are moist, flavorful and gluten-free. This recipe is a riff on one from Sweet Laurel Bakery, a wonderful bakery in LA. 
Here are the details:
These are small batch muffins yielding 18 mini muffins or 9 cupcake size muffins. Line the cups with paper liners.
Preheat your oven to 350 degrees F.
Equipment:
2 mixing bowls
Spatula or stand mixer with paddle attachment.
Measuring spoons and a measuring cup. 
Mix the wet ingredients in a mixing bowl:
2 eggs
½ cup maple syrup 
¼ cup good quality olive oil
1 T vanilla
Whisk together the dry ingredients in the other mixing bowl:
2 T Bubbe's Bakery® spice blend- or your own spices including chocolate, cinnamon and cardamom
1 T cacao powder, if you don't have any then you can substitute hot chocolate mix.
1 T espresso powder
½ teaspoon Kosher salt
½ teaspoon baking soda
2 ½ cups superfine almond flour, but any almond flour will do. It's gluten-free! Yay!
Incorporate the dry ingredients into the wet ingredients, slowly mixing until just combined. 
Fold into the batter:
1 cup of good quality chocolate chips- mini or regular size
Sprinkle this topping or dukkah on each muffin: 
1 T toasted sesame seeds
1 teaspoon Bubbe's Bakery®
¼ cup toasted hazelnuts and toasted almonds broken into small bits
Bake for 20-25 minutes for cupcakes size or 15 minutes for minis. Use a cake tester to see if they are done.  Cool on a wire rack. 
Hope your muffins are even better than mine. Bete'avon. 
Show off your work at #meetmykneads so we can high five you! Love it!