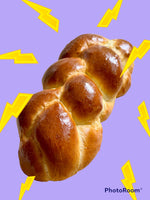 This is the OG... the original recipe that my family loves and never wants me to change ever.  Zei gezunt! You should live and be well and bake it and all the neighbors should think you are such a challah maven.
This is my no fuss, tried and true challah recipe which yields 2 loaves. When I teach classes, I always start with this recipe as it is so forgiving, a real crowd-pleaser and very flexible for working parents who are scrambling to get dinner on the table for the family. 
The loaves are not too sweet or dense. So it works for a sweet French Toast or a savory loaf to sop up the sauce at dinner. Or just to stuff in your face fresh out of the oven because you have no patience and hope your family will forgive you. (Now you know why we make TWO loaves!!!) It's light, fluffy and utterly delicious.  The creativity continues when we add spices and toppings.
Even if you are a Challah Newbie…. you can't go wrong. Seriously, you got this. 
Equipment
Measuring cups
Measuring spoons
Kitchen thermometer (optional)
Parchment paper
Baking half sheet pan or a cookie sheet
Stand mixer (optional)
Large mixing bowl or the one that comes with your stand mixer
Spatula or bowl scraper
Dough knife (optional)
Clean dish towel or plastic wrap
Dough bowl or container for rising
Ingredients
4 - 5 cups/ up to 600 g bread flour if needed (you can also use All Purpose flour if that is what you have on hand, it works just fine) plus a little extra flour for a sprinkle while you are kneading the dough  
1.25 cup/285g warm water (about 110 degrees F)
1 Tablespoon/10g active dry yeast (instant yeast if OK too, if you are using packets of yeast you will need a packet and some extra so have 2 packets on-hand)
1 Tablespoon + 3 more Tablespoons/57g  cane sugar (I will not lie. My tablespoons have been known to be heaping. And sometimes I add some honey or sub honey for all the sugar.)
2 large eggs + 1 egg yolk (lightly beaten)/125g and 1-2 eggs more for the eggwash finishing touch (Please choose the best eggs you can. My eggs come from chickens that eat the finest pasture grass, live in exclusive gated chicken communities with full size chicken swimming pools and spas.) 
1 teaspoon/6g vanilla extract (optional)
1.5 teaspoons/5g coarse/Kosher salt 
0.25 cup/50g olive oil (but you do you and use any kind of oil you want) plus a few extra tablespoons to oil the bowl during the rise
1-2 Tablespoons of any Meet My Kneads® spice blend (or any sesame poppy seed blend, cinnamon spice blend, herb blend like za'atar- feel free to use whatever you have in your pantry; weight depends on the spice and baker preference)
Directions
In a large mixing bowl, add 400g of bread flour (you will add the rest later). Make a deep well in the middle and add 1.25 cups of very warm (but not hot) water. 

Add 1T active dry yeast. This is the kind of yeast that you have to wait for it to bloom. You probably could use the rapid rise type of yeast but I never do. 

Finally, add 1T (and yes, I tend to do heaping Tablespoons) of granulated cane sugar. Gently swirl the yeast and the sugar together in the well just so that the yeast and sugar are submerged and mingling. Wait 10 minutes. There is something oddly satisfying about watching yeast bloom. But let's face it, I geek out on baking. You can empty the dishwasher, turn on some music or just prepare the rest of the ingredients for the dough while you wait. Or better yet, call your grandma, mom or rebbetzin and tell her you are making challah. She will kvell with such nachas from this!

Once the yeast has bloomed, add the remaining 3T sugar, oil, beaten eggs and vanilla to the center well.

Mix, mix, mix together until all the ingredients are combined.  You can get a workout doing this by hand.  Or use a stand mixer, first with the mixing paddle until everything is combined and coming together. It should look like thick cake batter at this point. Now add the salt. Add more flour in 2T increments. The dough will start to pull away from the sides of the bowl. Once the dough pulls away from the sides of the bowl and you start to have a ball of dough, it is time to knead.

You can switch to the dough hook now that all of the ingredients are combined. You will still add some flour so that it becomes more of a ball and less sticky. Start adding in the remaining flour 1 Tablespoon at a time until you get a good lookin' ball of dough. DO NOT ADD TOO MUCH FLOUR or the dough will get dry- so hold yourself back. You will likely use most of the remaining flour. The beautiful thing about challah is that it is VERY forgiving. So forgiving that it will be your best friend. Challah is just there to make you look good in front of friends and family. Always trying her best to be fabulous.

Knead the dough for about 5-6 minutes with the dough hook. If you are doing this by hand, knead for 8-10 minutes. Knead for however long until you get a smooth ball of dough that doesn't look shaggy- time depends on if the kids are parading around in costumes and yelling for you to come watch their show or your dog is being cute so you need to have an urgent photo session. I don't know anything about either of those situations. Your dough should be tacky to the touch but not so sticky that it sticks to your fingers.  You may need to add a tiny but more flour here to get it from stick to tacky. Dump out the dough onto your lightly floured or oiled work surface. 

Form into a ball by stretching and turning 4 times. Flip it over.

Now you should have a nice, smooth ball of dough. Oil a large bowl covering the sides and bottom.  Place the ball of dough in the bowl smooth side down and then flip it over to put the side with the folds down.  Now all sides of the ball are covered in a very thin layer of oil. This will help keep the dough from drying out as it rises. Cover the bowl with oiled plastic wrap or a clean, moist dish towel and set aside. I moisten the center of the dish towel with hot water to bring a little warmth to the rising bowl of dough because my kitchen tends to be cold. Congrats! You are now proofing your dough. If your kitchen is drafty, you can put the bowl in your oven that is turned off. 

Let the dough rise for about 60 minutes. It should almost double in size. This is not an exact measurement but you should see a noticeable difference.

Punch down the dough, flip it over and shape it back into a ball and then cover it again with the dish towel. Set it aside for another 30 minutes. Back to the kids for the second half of that show.

Turn the dough out onto a very lightly floured board or counter. Divide the dough into the number of strands you want for your plaiting fun. There are so many You Tube videos demonstrating how to braid with 2, 3, 4, 5+ strands. You can really get creative. Have fun! This recipe yields 2 good sized loaves or you can make a bunch of little challah knots. It is tradition to have 2 loaves on your Shabbat table. (Cue the

Fiddler on the Roof

music!)  Traditionnnnn! Tradition!

Section the dough into the number of strands that you need for your braid.  You can weigh these separated balls to make sure your braided strands will look even. Flatten these dough balls into rough rectangular shapes to get rid of some air bubbles then roll them up like little jelly rolls, pinching together at the seam. Let the strands rest for about 10 minutes covered up with the plastic wrap or the towel so they don't dry out.

Next, roll out your strands gently with the palm of your hands pressing slightly.  If they are snapping back into short strands, just set the strands aside and keep them covered in the plastic wrap.  They need to rest a bit more to relax. Wait 10 minutes and roll them out a bit more. At this point, you should have strands that stay and don't snap back. 

Braid according to your preferred design. 

Lay out your challah braids on a parchment paper lined baking sheet. Cover and set aside the challah and let it rise- yes, again- for 30-45 minutes while your oven preheats to 350 degrees F (175 degrees C).

Beat the egg that is reserved for the egg wash well. Add a ¼ -1/2 tsp of water and a pinch of salt.I found that if I add an extra egg yolk to the wash, the color of the challah is an even deeper, golden brown. Brush the top of each challah with the egg mixture.

When you are ready to bake, brush another layer of egg wash and sprinkle some

Ungapatchke Challah

® spice blend or any seeded blend on your loaf.  This is the bedazzling that wows your guests! Don't hold back!

Bake for about 30-35 minutes depending on your oven performance. You can check for doneness with a thermometer which should register 190-195 degrees F/88 degrees C. Or you can tap the bottom of a loaf. If it sounds hollow and looks golden brown then you're done! 

Mazal tov, Superstar! Balabuste! Host with the Most! Stand back and admire your work. Accept your guests' accolades with pride and love. Hope your challah is better than mine! Let me know how it goes and send me a photo- Susie@meetmykneads.com.