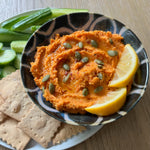 This carrot hummus makes a color, nutritious appearance on any board or crudite platter.  Roasting the carrots and adding some earthy, warm cumin add gorgeous flavor to this dip. You can eat it with crackers, pita, raw veg or simply spread it on a sandwich.  So easy to make!
Here is the recipe:
400 g (5-7 medium) fresh organic carrots- this is the main ingredient so make sure they are SWEET, FRESH carrots. Do not use baby carrots, please.
1 15.5 oz. can of chickpeas
1 tsp cumin powder- earthy, warming and aromatic
2-3 garlic cloves - smashed to unlock their flavor
2 T tahini (OPTIONAL)
1-2 lemons juiced (about 1/3 cup- cause I like it lemony)
Salt and pepper to season, olive oil to drizzle and seeds or nuts to top off.
Roast the carrots until they are a bit mushy.  You don't want them to be al dente because they are going into the food processor to combine with the chickpeas.
Put all the ingredients in the food processor and process until smooth.  You may add a splash of ice water or olive oil if it seems like it is too dry.  
Top with chopped walnuts or pumpkin seeds and a tiny pinch of pepper flakes for a kick.
Serve room temp with crackers, pita, crudite. Spread it on a sandwich or flatbread and layer with veggies. Bete'avon! I hope yours is even better than mine.