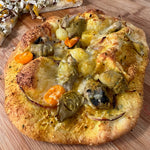 This flatbread is simple to make with just a few, easy to find ingredients.  It is a great accompaniment to any dip.  Cut into triangles and use it in place of crackers. Serve with cheese for a filling lunch box snack.
400g Bread flour- plus a little extra if the dough is too sticky
100g Whole wheat pastry flour
6 g active dry yeast
1 ¼ cup room temp water (be careful not to add too much- you can always add more later)
10 g fine sea salt
Mix flours and yeast.
Mix in water until combined. Cover with plastic wrap and let the shaggy ball of dough rest for 15 minutes. 
Mix in sea salt. And knead the dough by hand for 10-15 minutes until you get a smooth ball of dough.
Place in an oiled bowl and cover with plastic wrap. 
Let it proof in a warm part of your kitchen for about 2 hours.
Preheat your oven to 450 degrees F. You can use a pizza stone or bake on a cast iron pan in the oven. 
Divide dough into as many small or large portions that you want.  8 small individual flatbreads or up to 2 larger portions to share. 
Dust your work surface with flour and roll out the dough into thin circles or oblong shapes.  
Prick all over with a fork so that you don't get pockets or big bubbles.  
Top your dough with any vegetables, cheeses or SPICES!!! of your choice. In the photo, I used a sprinkle of ALL SHUK UP® seasoning blend, marinated (and drained) artichoke hearts, cherry tomatoes, caramelized onions and a sprinkle of grated parmesan cheese. Try to stay away from very wet ingredients as this may make your finished product soggy. If you want to use wet ingredients you may want to bake the dough for a few minutes to build the crust before you top with the wet ingredients.
Bake for 5-8 minutes depending on your oven.  
Bete'avon!  I hope your flatbreads are even better than mine! Let me know how it goes.