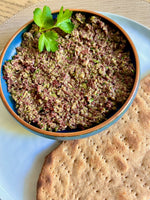 So if you visited my kitchen I would have to make a double batch- 1 for you and 1 for me because this is so delish... I don't want to share! This recipe is adapted from Cookie and Kate
In a food processor:
1/2 Cup pitted green olives such as Castelvetrano or some firm large olive, drained
1/2 Cup Kalamata pitted black olives, drained
2 tsp capers, drained
2 T good quality extra virgin olive oil
1 large garlic clove- minced
2 T lemon juice
1/3 Cup FRESH flat leaf parsley
Pulse in a food processor until you get desired texture- I like it a little bit chunky not pureed smooth. 
Dig in with your flatbread or crackers! Bete'avon! I hope your tapenade is even better than mine! Let me know how it goes!