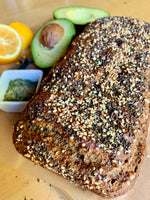 YOU. WILL. NOT. BELIEVE. THIS.
There. I said it. This is a gluten-free, paleo bread that is so delicious that your family will ask for it and have no idea it is healthy.  Sweetened with honey, it is a guilt-free pleasure. 
Wholesome, healthy bread is another way to indulge in self-care and nurture my family's health. This tender bread is chock full of nutrients from flax, hemp seeds and eggs. Sweetened with honey, it hits the mark for those who are eating mindfully and craving fresh bread. 
Recipe 
Dry ingredients- mix together
3/4 cup Paleo Baking Flour
1/2 cup almond flour
1/4 cup Organic flaxseed meal
1 teaspoon baking soda
Pinch of fine pink Himalayan salt
Wet ingredients- mix together
5 organic eggs
1.5 teaspoons Apple Cider Vinegar
1 Tablespoon honey
1/4 cup olive oil
Combine wet and dry. Don't overmix. Bake 350 degrees F for about 25-30 minutes. I use a 4.5x8.5 inches small loaf pan or this bread will be kind of flat. I sprinkled hemp, flax and sesame seeds on top. I keep a mixed jar of these toppers in my spice cabinet for convenience. You can sprinkle any seeds you like or leave plain.
Cool on wire rack so it doesn't sweat on the bottom. Cue the lemon and avocado.
Enjoy! Hope yours is better than mine! Bete'avon!
Post yours to #meetmykneads so I can meet your kneads too!