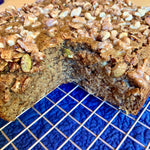 I could have called this No-Brainer GF Banana Oat Bread. 
This is a 1-bowl, healthy, GF, dairy-free morning breakfast-snack-tea time bread.  You can make it in muffin form which bakes in under 20 minutes or cake form which bakes in 30 minutes.  No stand mixer is required. 
This is so quick, easy and mess-free that you could put this into your morning breakfast rotation. It's done before you can finish your cup of coffee. You could also pre-measure the dry ingredients the night before (they all fit into a 2 cup capacity measuring cup) and have them ready to toss into the wet ingredients in the morning. BOOM- you are a breakfast rockstar! 
Wet ingredients
2 large overripe bananas- Use a fork to mash these up in a big bowl.
Add all of the other wet ingredients to the bowl. 
2 eggs
¼ cup almond milk (or milk of your choice)
2 T coconut oil (or any neutral oil)
1 teaspoon vanilla
Mix the wet ingredients together. Mash up any remaining banana lumps. 
Dry ingredients (add all the dry ingredients to a 2 cup capacity measuring cup)
1½ cups of GF oat flour
Top the oat flour with:
½ cup coconut sugar (you can use light brown sugar but the coconut sugar is healthier with more nutrients and lower glycemic value)
Now you are up to the 2 cup mark and just top that with a couple teaspoons of other ingredients.
1 teaspoon baking soda
1 teaspoon Cinnamon Shtik® spice blend
Pinch of kosher salt ... Which is smaller a dash or a pinch? Whichever one is smaller - just a little bit of salt.
Dump the measuring cup of dry ingredients into the wet ingredients that are already mixed in the bowl. Mix a little bit until everything is incorporated.  I use a dough whisk to mix it up but a big spoon would be fine too. Don't over mix because you may end up with a stiff, tough textured cake. 
You can spoon the batter into lined muffin cups and it would make about 18 muffins.
I bake it in an 8x8 square cake pan.  Just line the pan with parchment paper because this is all about easy.
Top with walnut pieces and/or GF granola, pumpkin seeds, sunflower seeds... (Or perhaps you want to go the chocolate chip route.)
Bake 350 degrees F for 15-20 minutes for muffins and 30 minutes for cake. Baking times really depend on your oven and the container you bake in so please keep an eye (and a nose) on your oven and take it out as soon as it is done- clean cake tester! 
Set aside to cool on a rack.  
This recipe is inspired by FitFoodieFinds.com
Hope your cake is better than mine! Let me know how it goes at Susie@meetmykneads.com. Bete'avon!