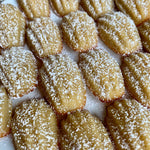 It's a cookie! It's a cake!…. It's a cakie!
Here is one for holiday celebrations that is simply delicious, looks pretty and is a crowd-pleaser. You can make the batter the day before and serve these fresh out of the oven for breakfast. Yes, I am officially nominating these little wonders for breakfast. 
Do you think a Madeleine is a cookie or a cake? 
All the stuff…
85g, 6 Tablespoons of butter, melted to make brown butter
90g, ¾ cup of all-purpose flour
Pinch of salt
4g, 1 teaspoon baking powder
3 eggs, room temperature
67g, ⅓ cup of cane sugar
1 teaspoon CINNAMON SHTIK®
43g, 2 Tablespoons of honey
114g, 1/2 cup applesauce
Powdered sugar for dusting (optional)
Let the games begin...
Brown the butter.  Melt the butter in a small pan until it starts to have some brown bits.  Stir continuously so the brown bits don't burn. This will take about 2-4 minutes on medium heat.  Don't take your eyes off it! Take it off the heat and let it cool down.

In a medium bowl, whisk together the baking powder and the flour.  Set it aside.

Bring the eggs to room temperature. Use a mixer with the whisk attachment to beat the eggs until they are fully blended and turn pale yellow.

Beat the sugar and honey into the egg mixture. The mixture should become a bit thicker and smooth.

Add the flour mixture to the egg mixture. Make a smooth batter.

Then add the applesauce to the batter.

Lastly, add the brown butter to the batter. 

Cover the bowl with plastic wrap and place it in the fridge for at least 2 hours.  You can also make the batter 1 day in advance and just bake them the next day so they are fresh out of the oven for your guests or happy kiddos who live in your house.

When you are ready to bake, preheat the oven to 375ºF.

Give a quick whisk to the batter. Fill the Madeleine molds not quite to the top. I love my Silpat mold because they come out perfectly every time and no messy clean-up. BTW, easy clean-up is the way to my heart. 

Bake for 12-15 minutes.  They should be a bit brown on top or around the edges and have puff up in the middle. Baking time depends on your oven so best to keep an eye. 

Remove the cookie mold from the oven and place on a cooling rack.  Let it cool down a few minutes and then you can pop the cookies out. (Yes, Silpat, I love you.) Try not to eat them all at once! 
Shana Tova U'metuka!  Have a sweet new year!