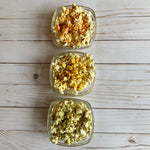 When our kids were little we had a lot of movie nights together all snuggled up in our jammies on the couch. Some favorites included Parent Trap, Mighty Joe Young, It's a Mad, Mad, Mad, Mad World, Pink Panther and Grandpa's Magical Toys. We had eclectic taste for sure. Popcorn was a key element of the home theater experience. 
We keep popcorn as a pantry staple.  Popcorn is a gluten-free, low calorie, no fuss treat that is a crowd pleaser when friends are over.
You can make 1 big batch of popcorn, divide the popcorn among a few bowls and your "customers" can choose which spice blends to sprinkle. You may want to add a sprinkle of salt to taste. Before I sprinkle the spices, I spray the popped corn with a bit of avocado oil but you can use butter or any other oil.  This will help the spices adhere to the corn for extra flavor. 
To put some POP! in your popcorn, sprinkle generously with Meet My Kneads™ sweet and savory blends.