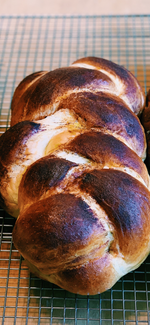 I spent a lot of time with my grandmother (bubbe) in her kitchen because I would get dropped off at my grandparents' house while my parents worked or ran errands. I was her bubbeleh, a Yiddish term of endearment meaning little doll. We spent our time playing cards and telling stories about the "olden days".  Grammie always kept a box of dark chocolates next to the settee. I was allowed to poke my tiny finger in the bottoms of the chocolates until I found the one with caramel. Grammie dutifully ate the ones that I poked that were not caramel. This was a system that worked well for both of us.
When we weren't watching game shows or drinking lemonade on the front porch glider, Grammie and I would often "potchke" in the kitchen.  Potchke, or fussing in the kitchen, was her way of occupying me while she made a delicious, multi-course Shabbos meal.  She would allow me to take out all kinds of baking ingredients and mix up some concoction that was utterly inedible.  Then we would bake it and when my dad arrived for dinner he would attempt to eat it and end up making faces, cringing with comedic flair.  The joke was played almost every week and resulted in my delighted laughter at having "tricked" my dad into eating something that was disgusting. 
I remember the first time we baked challah together.  I don't recall the recipe or how we worked with the dough- I just remember that the end result was an absolutely stunning double decker braided loaf. 
So here I am, years later, still experimenting and hoping to one day create a loaf as spectacular as hers. 
This recipe is a sweeter challah that has swirls of dark chocolate, cocoa and cinnamon, reminiscent of the chocolates we shared.  This challah is perfect for morning breakfast or an after-school snack with peanut butter.  
Ingredients
2 large eggs + 1 egg yolk
1/4 stick butter or other shortening
0.25 cup extra flour for a sprinkle while you knead the dough.  
2 egg yolks for the egg wash before you bake.
4 Tablespoons Bubbe's Bakery
™
Directions
In a large mixing bowl, add 4 cups of bread flour (you will add the rest later). Make a deep well in the middle and add 1.25 cups of very warm (but not hot) water. The water should be between 95-110 degrees F. Add 1T active dry yeast. This is the kind of yeast that you have to wait for it to bloom. You probably could use the rapid rise type of yeast but I never do. Finally, add 1T (and yes, I tend to do heaping Tablespoons) of granulated cane sugar. Gently swirl the yeast and the sugar together in the well just so that the yeast and sugar are submerged and mingling. Wait 10 minutes for the yeast to bloom. If your yeast doesn't bubble or foam up, you probably made your water too hot. 

Once the yeast has bloomed, add the remaining 4T sugar, honey, oil, eggs and salt.

Mix, mix, mix together until all the ingredients are combined.  You can get a workout in doing this by hand. What's on your Spotify? Beyonce? Matisyahu? Whatever your musical taste, I think a good workout track will help you get into your challah flow. You can also use a stand mixer, first with the mixing paddle until everything is combined and then with the dough hook kneading for 5 minutes.  If you use a stand mixer, drop and give me 20.  Nobody gets out of here without a workout! 

Then start to add in the remaining flour a little at a time until you get a ball of dough.  You will likely use all or most of the remaining cup here.  The beautiful thing about challah is that it is VERY forgiving. You can add more flour just 1 Tablespoon at a time until you have a dough ball that is holding together, not runny and just a little bit sticky. 

Turn out the slightly sticky dough ball onto a large, floured cutting board or your super clean kitchen counter. Knead by hand, adding in small amounts of the remaining flour sprinkled over the dough just to keep it from sticking to your hands. Don't add too much flour or your bread will turn out dry. Knead for another 5 minutes, stretching and pulling the dough and tucking it back into a ball over and over.

Oil a large bowl covering the sides and bottom generously.  Place the ball of dough in the bowl and then flip it over so that all sides of the ball are covered in a thin layer of oil. This will help keep the dough from drying out as it rises. Cover the bowl with a clean, moist dishtowel and set aside. I moisten the center of the dishtowel with hot water to bring a little warmth to the rising bowl of dough because my kitchen tends to be cold in the morning.

Let the dough rise for about 90 minutes. It should double in size.

Punch down the dough, flip it over and then cover it again with the dishtowel. Set it aside for another 30 minutes. (Note: 

If you want to bake the challah another day, you can  put the dough in the fridge overnight in a covered container or bowl. Take the dough out the next day about 2 hours before you are ready to bake so that it comes to room temperature.) 

Turn the dough out onto a floured board or counter. Divide the dough into 3 equal portions for your braid.  You can also make 2 smaller loaves by dividing it into 6 portions, 3 for each braid. 

Roll each portion into a long rope.

Roll out each rope using a floured rolling pin until you get a long rectangular strand of dough. 

Paint a generous amount of the melted butter all along the center of the strands.  

Sprinkle 1 Tablespoon plus another 3/4 teaspoon of

Bubbe's Bakery

®

 

all along the buttered strand. 

Roll up to form a log; pinch along the seam to seal.

Place 3 logs on a parchment paper with the seam side down. Braid the 3 logs together. Pinch each end and tuck the ends under so all you see if a lovely braid. 

Cover with a dry dishtowel, and set aside to let it rise for 30 minutes in a warm part of your kitchen.  The braid will puff up during this rise but not double in size. 

Preheat your oven to 350 degrees F. 

Beat the egg yolks and brush the braids with the egg wash being careful to cover the whole braid but not leave pools of egg sitting on top.  Repeat this step a second time. You can add a dusting of the spice blend here as well!

Bake until the top is golden brown and the challah sounds hollow when you tap the bottom.  This will take about 35-40 minutes. If your loaf seems to be getting too brown before it is done baking, tent it with aluminum foil. 

Mazal tov, bubbele! My grandma would be so proud of you. If you have any left over the next day (which is highly unlikely), this also makes amazing challah french toast.