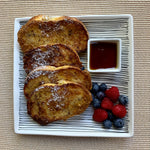 Who wants to be a hero in the morning by making absolutely fabulous french toast but you really don't want to fuss in the kitchen with measuring spoons and a mess? It's the weekend and you want to stay in your jammies and snuggle on the couch with your favorite book or you are in a hurry to get the kids to school but you still want to have a delicious breakfast?  
Enter stage right- Quickie Cinnamon Shtik® Challah French Toast! 
When our kids were little, I left my career in engineering and became an art instructor in the local schools so that I could have the same schedule that they did. It was a hustle bustle every morning to get everyone out the door with a backpack, lunch bag, band instrument, bike helmet and 2 matching shoes. 
I had to get 3 kids and myself to class at different neighborhood schools. Oh, and let's not forget about walking the dog!
But we always made time for breakfast so that we could start the day right and bright. French toast was in our regular rotation and I took every opportunity to cut corners in the preparation of every meal by engineering a way through recipes to minimize prep time and clean up. 
Ingredients:
You will see that I have provided exact measurements but also a hack for most ingredients to save time and equipment clean-up. No need to be a perfectionist on this one.  It will still be delish! 
4 thick slices of lightly toasted Challah bread (you can sub Brioche bread)
1/3 cup milk (this is to give the mixture a custard-like texture, no need to measure- a healthy splash of milk will do)
1 Tablespoon Cinnamon Shtik®
 (no need to be exact on this, just use a soup spoon and eyeball it)
1/2 teaspoon pure vanilla extract (on a busy school or work morning, just use 2 vanilla extract bottle caps as your "measuring spoon")
2 1/2 Tablespoons butter (to melt in the frying pan, more or less depending on the size of your frying pan)
Directions:
Toast the challah bread slices.

Use a fork or whisk to mix the eggs, milk, spice blend and vanilla in a bowl.
Heat the pan on medium low. Melt the butter, keeping an eye not to let it burn.
Using a fork, place each slice one by one in the egg mixture bowl. Press down to submerge the slices in the egg mixture, turn it over and make sure the toast if fully soaked in the mixture.  Hold the challah slice over the bowl with the fork to allow the excess egg mixture to drip off. Repeat for each slice.
Place the challah slices in the bubbling buttered pan. Do not crowd the slices so you can flip easily and they won't be stuck together.  Depending on the size of your pan, you may have to do the 4 slices in 2 batches.  Flip the french toast over to fry the other side.  You can add a sprinkle of the Cinnamon Shtik® to each slice now as well. The slices should be golden brown.  If you are doing this in batches, you may need to melt more butter in the pan. 
You can dust the top of the slices with a bit more Cinnamon Shtik® and hop in the car with the toast in a napkin (you know who you are and you are doing fine). If you are not rushing out the door, serve with maple syrup. Speak French to your family while serving for dramatic effect! This helps set the mood. Make sure they save you a piece. Bon appetit! 
Hope your Challah French Toast is better than mine! Let me know how it goes by emailing me at
Susie@MeetMyKneads.com
.