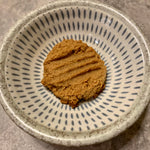 I am not one to encourage morning cookie eating.  After all, I love a traditional breakfast with a veggie omelet or avocado toast.  But on those mornings when you are truly in a rush, you know the drill, you can't find your credit card even though you know you put it back in your wallet after being on hold for 45 minutes with the airlines.  Or that morning when you were up all night worrying about today's meeting and then you overslept. Those are the mornings when you can grab this breakfast cookie and not feel guilty.
This recipe was inspired by the fabulous CookieandKate.com Peanut Butter Maple Cookies and then I took it from there to make it more of a breakfast treat.  It's fun to experiment with a great recipe and make it your own by changing things up in the ingredients list and adding spices that you love. In this case, I added the Cinnamon Shtik
™ blend for extra punch. This cookie is packed with protein from eggs and peanut butter. Furthermore, 
Spelt's ancient whole grain goodness is chock full of vitamins and minerals. Some diet gurus say that it can help regulate metabolism, lower blood sugar and reduce bad cholesterol. 
Also, it tastes good. Like really good. 
Ingredients:
1 cup maple syrup (you could substitute date syrup if you wanted to reduce the sugar even more)
1 1/2 cup peanut butter (I use the all natural, no sugar peanut butter.)
2 Tablespoons Cinnamon Shtik®
 spice blend
Directions:
Whisk together all the dry ingredients in a medium bowl.
Mix the wet ingredients in your stand mixer bowl.  I don't recommend mixing these by hand because the peanut butter stays lumpy without a good steady mixing.  
Gradually add the dry ingredients to the wet ingredients until you have a smooth batter.  Don't over mix these because I think the texture could get tough if you over mix. The batter should be pretty thick and sticky, not runny.
Preheat your oven to 350 degrees F. 
Take a cookie scoop or small spoon and spoon the small dough balls onto a parchment lined baking sheet. You can flatten them with the bottom of a glass cup or make the traditional cross hatch on top of a peanut butter cookie using a fork. These do not spread out much at all. If you choose to make larger sized cookies, then you can adjust the bake time accordingly. Just keep an eye not to over bake them or they will dry out. 
This recipe yields about 6 dozen small cookies so you could just bake half a batch.  Store the other half of the dough in the freezer and bake a fresh batch next week.
Bake for 10 minutes. They may seem a little underdone at this point but they will firm up on a cooling rack. 
Keep an emergency stash of these over-achieving little cookies in the freezer. You can nibble on it in the car or give it a quick toasting before you rush out.