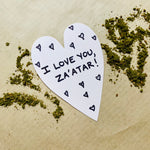 Ingredients:
3 Tablespoons Za'atar My World®
1/4 c Olive Oil
1 Lemon (zest, juice) optional
Directions:
Za'atar is one of those blends that you will find works at just about every meal. For breakfast, just sprinkle it on your eggs or avocado toast et VOILA! It's a zesty, great morning!  At lunch, you can have a lovely pita sandwich of Za'atar chicken salad or add it to your salad as a dressing, even a sprinkle of pizzazz on your tomatoes.  For dinner, pass the hummus with a splash of olive oil, lemon juice and you guessed it, za'atar. 
I have always loved mix-ins.  It started for me as a child when I would mix in all kinds of things to my ice cream- chocolate chips, candy, bubble gum, Girl Scout cookies…. And the more stuff, the better.  After college, I redirected my obsession with mix-ins to pasta. All kinds of vegetables, sauces, cheese, spices…. 
Now, my mix-in obsession has expanded to the world of baking. Each week, as I bake my challah for Shabbat, I think about what mix-ins or toppings I could add that would complement the meal and also stand alone as pure awesomeness. There are so many routes to take here that are inspired by the various spice blends that are used throughout the meal.  
A personal favorite is za'atar.  This tangy blend of the za'atar herb, also known as Hyssop during biblical times, can be mixed with sesame seeds, sumac, oregano, thyme and many other herbs and spices. Our blend at Meet My Kneads® is very simple, with the za'atar herb, sesame seeds and a hint of sea salt. The head baker at the fabulous Barnstar Kitchen in Ontario, noticed that I was mixing za'atar into my dough and generously recommended mixing the za'atar with olive oil to make a paste.
It really improved the results and was reminiscent of the delicious flatbread painted with a generous pour of olive oil and sprinkled with za'atar that you can munch on throughout the Middle East. Simple? Check! Delicious? Check!
So people, it's time to get your za'atar game on.  Check out the No Fail Ungapatchke Challah® Recipe on the Meet My Kneads® blog or choose your own challah recipe.  When you are ready to braid your dough, flatten each strand. Mix up a paste of Za'atar My World® and olive oil. Then spoon the paste in a stripe all the way down the mid-line of the strand.
Pinch the strand closed by bringing the top and bottom edges together, all along the long axis.  Pinch, pinch, pinch all along the strand so that the za'atar is locked in there.  Braid the strands as you usually do. Don't worry if some leaks out.  That just means that your challah will have some gorgeous za'atar peeking through after the bake.
Bake as usual.  
Your family will be transported to a Middle Eastern marketplace with the intoxicating aroma of warm baked bread with a fresh herbal za'atar blend.