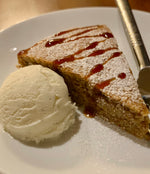 This is the almond cake version of a basic cookie recipe.
There are many almond cake recipes online and this one is loosely inspired by 
Recipes-Plus.com
. I changed it quite a bit to make it so simple and fuss-free. U
se it as your base and then start to get creative with whatever you have in your pantry. This cake is
dairy-free, gluten-free and kosher for Passover
so it is a great addition to any meal and a real crowd pleaser. 
With few ingredients, it is the kind of cake you can whip up in a flash and yet it can be so elegantly presented that your guests will be thrilled with this grand finale to a great dinner.  I make 2 small 8" cake rounds with this recipe.  I serve one at dinner and then I freeze the other for whenever a friend drops by for a cuppa.  (Friends- if you are reading this- I hope this tempts you to casually drop over unannounced for a cuppa!) 
You can dress it up with whatever is in season- peaches, berries, warm baked apples.  I like to top it off with powdered sugar, a squeeze of date syrup and a side of vanilla bean ice cream.  
Ingredients:
5 eggs
2 1/4 cups super fine almond flour
1 1/4 cups bakers sugar (this is a superfine sugar that falls somewhere between cane sugar and powdered sugar)
Zest from 1 orange or 1 lemon (I use a lemon from my tree. Thank you California!)
2 Tablespoons Meet My Kneads Chai is
Ch
ai
™
spice blend (or add more if you like things spicy).
If you want to add a glaze (optional):
1/2 c powdered sugar mixed with water (about 3T) to your desired consistency.
1 Tablespoon Chai is Chai® spice blend
Directions:
Beat the 5 eggs in a small bowl and set aside.
In a mixing bowl, whisk together the almond flour, sugar, zest and Chai is
Ch
ai
™
. Be sure to mix this up thoroughly so the ingredients are spread evenly throughout the cake. 
Next, mix in the beaten eggs.  
Try to make all of this look difficult because you are almost done.  Yes, it is that easy.  
Preheat your oven to 350 degrees F.
Prepare your springform cake pans by greasing around the sides and line the bottom with parchment paper.  I have round cake pan sized parchment paper with wings that fold over the sides of the cake pan and I have to tell you, it has made my cake baking life much easier because every cake is so easily moved from the pan to the serving platter. Unfortunately, I have not found parchment paper to make anything else in my life easier but stay tuned. 
If you want to make one big cake and not 2 smaller ones, then you can bake it in a 10" pan.  The smaller 8" cakes serve 8 people with a dainty 3 inch wedge.  With a scoop of ice cream or some fruit, I think it is a perfect sized dessert. 
Divide the cake batter and spread evenly in the pans.  Pop them in the preheated oven for 30 minutes.  Check at 30 minutes to see if it needs a few more minutes to bake.  How do you know it is done? The cake tester should come out clean from the center of the cake, the cake center should spring back and the top should be lightly browned.  Be careful not to over bake or you will dry out this sweet, moist delicious cake. 
Set the cake aside to cool completely. Sprinke with powdered sugar. You can also make a simple Chai is
Ch
ai
™
glaze to drizzle on the top by mixing 3T water, 1T Chai is
Ch
ai
™
and 1/2 c powdered sugar.  Add water as you like until you get the consistency you want. Or skip the glaze and drizzle each slice of the cake with honey or date syrup.  Add a few berries and vanilla bean ice cream for a finishing touch. Let your pent up creativity show!