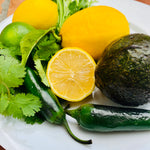 I have to write this blogpost in a hurry because I need to go eat avocado toast right now.  In fact, I always need to eat avocado toast urgently.  Take a fresh artisan loaf of bread, a ripe avocado, a fresh lemon and the Meshuga for Mexican® spice blend and you have won my breakfast, lunch, snack and dinner hearts. 
That's pretty much the whole recipe.  Using your fork, mash up some avocado on top of a thick slice of fresh toasted bread. Sprinkle with Meshuga for Mexican™ spice blend and hit it with a splash of fresh lemon juice. Perfection. 
If you want to get fancy, feel free to add a slice of smoked salmon or a fried egg. You can even add salsa or leafy greens, cucumber, red onion or yellow pepper. 
Gotta go eat! 
Hope your avocado toast is better than mine! Let me know how it goes with an email to Susie@MeetMyKneads.com.