Susie Fishman

Tags:

al;, almond, almonds, APPLE, baking bread, baking spice, board, brain-healthy, Castelvetrano, jewish, no bake energy bites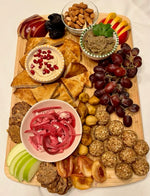 A celebratory board created using the Seven Species! The Jewish holiday of Tu B'Shevat is the festival during which we celebrate the renewal of nature and the coming of spring.Tu b'Shevat is a day to remind ourselves that it is our duty to care for the environment. Children often think of it as the birthday of the trees! 
---
Susie Fishman

Tags:

almonds, APPLE, board, brain-healthy, dates, dried fruit, energy balls, healthy snacks, honey, jewish, no bake, rosh hashana, spice, sukkot, tu b'shevat, vegan, vegetarian snacks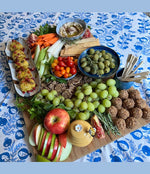 1 Cup dried apple rings (dehydrated, not crunchy) ½ Cup pitted dates, soaked in water for 15-20 minutes ¼ Cup almonds ¼ Cup old-fashioned oats 1 Tablespoon honey 1.5 teaspoon CINNAMON SHTIK® ½ teaspoon vanilla Drain the dates. But reserve the date water. Put all of the ingredients in a food processor. The ingredients should come together to form a dough.  If it is dry and is not coming together easily- add back some of the reserved date water just a teaspoon at a time.  Process again and see if you need to add more date water.  Remove the processed...