Susie Fishman

Tags:

al;, almond, almonds, APPLE, baking bread, baking spice, board, brain-healthy, Castelvetrano, jewish, no bake energy bites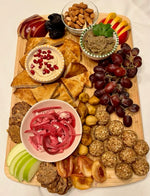 A celebratory board created using the Seven Species! The Jewish holiday of Tu B'Shevat is the festival during which we celebrate the renewal of nature and the coming of spring.Tu b'Shevat is a day to remind ourselves that it is our duty to care for the environment. Children often think of it as the birthday of the trees! 
---
Susie Fishman

Tags:

appetizer, boards and platters, capers, Castelvetrano, crudite, dip, flatbread, kalamata, olive, quick and easy, tapenade, vegan, vegetarian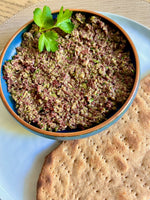 So if you visited my kitchen I would have to make a double batch- 1 for you and 1 for me because this is so delish... I don't want to share! This recipe is adapted from Cookie and Kate In a food processor: 1/2 Cup pitted green olives such as Castelvetrano or some firm large olive, drained 1/2 Cup Kalamata pitted black olives, drained 2 tsp capers, drained 2 T good quality extra virgin olive oil 1 large garlic clove- minced 2 T lemon juice 1/3 Cup FRESH flat leaf parsley Pulse in a food processor until you get desired texture-...