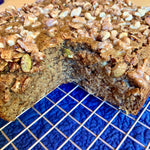 I could have called this No-Brainer GF Banana Oat Bread.  This is a 1-bowl, healthy, GF, dairy-free morning breakfast-snack-tea time bread.  You can make it in muffin form which bakes in under 20 minutes or cake form which bakes in 30 minutes.  No stand mixer is required.  This is so quick, easy and mess-free that you could put this into your morning breakfast rotation. It's done before you can finish your cup of coffee. You could also pre-measure the dry ingredients the night before (they all fit into a 2 cup capacity measuring cup) and have them ready to toss...
---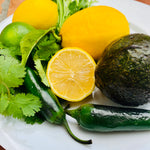 I have to write this blogpost in a hurry because I need to go eat avocado toast right now.  In fact, I always need to eat avocado toast urgently.  Take a fresh artisan loaf of bread, a ripe avocado, a fresh lemon and the Meshuga for Mexican® spice blend and you have won my breakfast, lunch, snack and dinner hearts.  That's pretty much the whole recipe.  Using your fork, mash up some avocado on top of a thick slice of fresh toasted bread. Sprinkle with Meshuga for Mexican™ spice blend and hit it with a splash of fresh lemon juice. Perfection. ...
---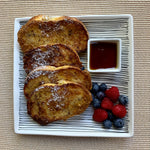 Raise your hand if you want to be a hero in the morning by making absolutely fabulous Challah French Toast but you really don't want to fuss in the kitchen with measuring spoons and a mess? Enter stage right- Quickie Cinnamon Shtik™ Challah French Toast!